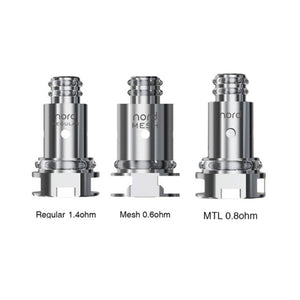 Smok Nord Replacement Coils
R 60.00

R 60.00

Save R 10
---
---
Priced per coil
Please Make Sure You Select The Correct Coil Ohm Option.
Compatible with Nord 1, Nord 2, Rpm40 Nord pods
The SMOK Nord Replacement Coil comes with Regular 1.4ohm coil, Mesh 0.6ohm coil and Ceramic 1.4ohm coil. The 0.6ohm mesh coil is designed for subohm vaping for faster heating and massive clouds. And the 1.4ohm regular coil is designed for MTL vaping, which can help you enjoy throat hit with it. While the Ceramic 1.4ohm coil is perfectly compatible with CBD oil. Ceramic is a material with great stability and strong high-temperature resistance.When the ceramic is applied into coil, the coil can be extremely durable and works well even in a higher wattage status. And when you fire to vape, the Nord coil can fully atomize the e-liquid and provide optimal taste. The Nord Coil is designed for the SMOK Nord Pod Kit and SMOK Nord Pod. 5 pieces each pack. Just get it as a spare part.
Parameters
Coil type: Regular 1.4ohm (best for nic-salt over 20mg), Mesh 0.6ohm (best for juice with Nic under 9mg), 0.8ohm Mesh (best for nic-salt over 20mg)