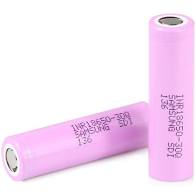 Samsung 30Q 3000mAh 18650 Battery
Priced per Battery
Description
PRODUCT DESCRIPTION
Introducing the Samsung 30Q. Perfect for regulated mods, this cell features a 20A Continuous Discharge and excellent capacity
PRODUCT FEATURES
3000mAh Capacity

3.7v Nominal Voltage

25-30A Pulse Discharge

15A Continuous Discharge
PACKAGE CONTENTS
1x Samsung 30Q 18650 3000mAh Battery
TIPS
Never leave your batteries loose in your pocket, purse or bag. Although the chance of your batteries venting on their own is minimal, loose change or a set of keys could cause a short and the battery to vent. Always keep your spare batteries well insulated with a battery case or silicon battery sleeve
Note
VapeSumMore will not be held responsible or liable for any injury, damage, or defect, permanent or temporary that may be caused by the improper use of any products sold by VapeSumMore.
VAPE BATTERY WARNING
This battery is manufactured and sold for the intended use of system integrations with proper protection circuitry or battery packs with a BMS (battery management system) or PCB (circuit board/module). This battery is neither designed nor intended to be used with an e-cig, vape, or similar device. USAGE OF THIS BATTERY IS AT YOUR OWN RISK!