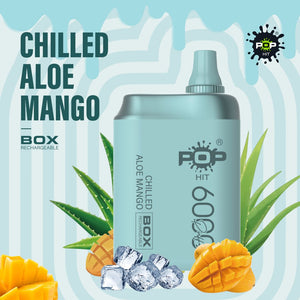 Chilled Aloe Mango BY POP HIT
Product description
An icy mixture of a sensational Aloe plant combined with a sweet mango fruit.
6000 PUFFS 
WHAT'S INCLUDED:

1 POP HIT SOLO RECHARGEABLE DISPOSABLE DEVICE
USB TYPE-C CABLE

5% SALT NICOTINE
VOLUME: 14ML (UP TO 6000 PUFFS)

INGREDIENTS:
VEGETABLE GLYCERIN
PROPYLENE GLYCOL
NATURAL & ARTIFICIAL FLAVORS
NICOTINE (5% BY VOLUME)


PLEASE NOTE: WE ARE UNABLE TO OFFER REFUNDS OR WARRANTIES ON CONSUMABLE PRODUCTS, (EG. DISPOSABLE VAPE DEVICES, UNSEALED COILS, MOUTH PIECES, E-LIQUIDS ETC.) DUE TO THE NATURE OF THESE PRODUCTS.