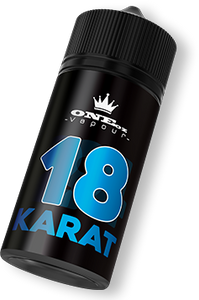 18 KARAT DIAMOND SERIES BY ONEOZ VAPOUR
Try this Litchi, Strawberry and Naartjie flavoured juice with added ice for a cool fruity inhale and a subtle hint of vanilla ice cream on the exhale.
100ml Bottle not 75ml or 60ml.
ONEoz now a proud product of the TKO Vape Co
The TKO (Taste Knockout) brand of e-liquids are of international quality but mixed locally, and you are supporting a Proudly South African brand. Taste Knockout started blending flavours because there was nothing unique, complex and of top quality available in the local market. Taste Knockout vision is to offer our customers world-class premium e-liquids without the import price tag. Taste Knockout aims to continually perfect complex flavours with layered tastes. Here, you won't find one-hit-wonder flavours! You can't lose with these international standard tasty e-juices at local cost. Packaged in the 100ml Chubby Gorilla bottles, giving you more value than the 60ml bottles at the same price.
Welcome to the best tasting vape juice you're ever gonna have - handcrafted vape couture. E-liquids distinctively blended using only the best components available. The result is a taste and cloud fusion like no other! As they say, Vape Local.